Frequently Asked Questions
Can I see how the HUD's look on the table?
Which payment methods can I use?
Paypal
Credit/debit cards through Paypal. The cards supplied by Skrill, Neteller, EcoPayz and other web wallets can also be used.
Crypto  – BTC, ETH, LTC, BCH, DAI, USDC
About crypto (BTC, ETH, LTC etc.) payments
Crypto payments are most suitable for lifetime license products. If you choose to pay for a subscription with crypto, then you would have to come and manually make the payment again after the subscription period ends, if you want to continue the subscription, because crypto payments won't be charged automatically.
If you choose Crypto as the payment method, you will be taken to Coinbase Commerce, where you can make the payment.
Don't send the payment directly from an exchange (Binance, Bitstamp etc.), because exchanges usually take fees for transfers and the payment will end up as being "Underpaid". This will cause the payment status to stay as "Pending".
But what if I can't use these payment methods?
In that case, go to
Contact
page and tell me which methods you can use.
But with alternative payment methods, the monthly option is not available.
Why is it subscription based?
Because this way it's possible to keep the prices down, so everybody have the chance to get the HUD they want.
There is also a lifetime option, which is one time payment.
Are the separate popups also subscription based?
No, the separate popups are all for lifetime licence and there are also no stake restrictions – you can use them at any buy in level.
How can I stop my subscription?
What is your refund policy?
There are no refunds for purchased PT4 HUD's, popups and HM3 HUD's. You can use the 15-day free trial to try the PT4 HUD's before making a purchase.
Holdem Manager 3 HUD's don't have a trial period, but you can see all the HUD panels, popups and booster panels included in the HUD on the respective HM3 HUD page.
There is also no trial for the separate PT4 popups, but they are included in the PT4 HUD's, so you can try them during the HUD trial period.
Subscription payments will not be refunded. You can cancel your subscription at any time and you will keep access to your HUD for the remainder of your subscription period.
Transferring the remainder of your subscription period to another account is possible, given you have 20 or more days left in your subscription. Simply provide the last 6 characters of your current account serial and the last 6 characters of the serial and registration email for the account you would like to transfer the remainder of your subscription to.
On which tracker do these HUD's work?
Currently all the HUD's are available for PokerTracker 4. If you don't have it, you can check it out here: PokerTracker (this is an affiliate link).
Some of the free and premium HUD's are now also available for Holdem Manager 3. If you don't have it, you can check it out here: Holdem Manager (this is an affiliate link).
Will these HUD's also be available for Holdem Manager 2?
Most likely not. But some free and premium HUD's are available for Holdem Manager 3.
Will these HUD's also be availabe for Hand2Note?
Probably at some point. But I can't give any timeframe, when they will be available.
Where can I find my PokerTracker 4 'Registration email' and 'Serial'?
You can find your registration email and serial from PokerTracker 4's Help -> About window. See picture below: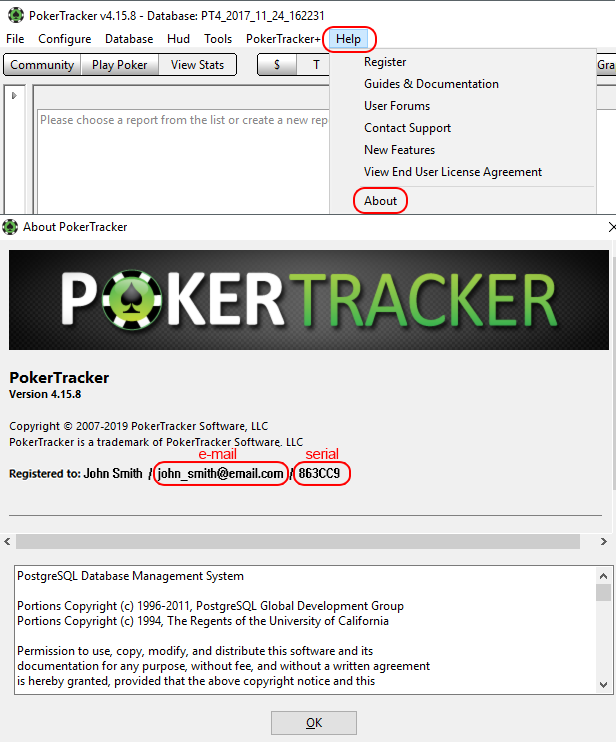 How long is the trial?
The trial is for 15 days.
Do separate popups also have a trial period?
Unfortunately the separate popups don't have their own trial. But you can give all the popups a try, by getting the full HUD trial.
There is more than 1 versions of this HUD, which version do I get to try?
When you sign up for a trial, you will get to try all the versions.
For example: you sign up for the +EV MTT/SnG HUD, you will get all the 3 versions, which include the Enthusiast, Pro and Master.
The HUD panels are all over the table, how do I place the panels correctly?
Sit down at a table and play a couple of hands.
Double click on the main HUD panel, which has the player name on it, so the borders of the HUD panels that belong to this player turn yellow.
Place the panels how you want, by holding down CTRL on a keyboard and dragging them with the left mouse button. You can look at the examples of placements for different HUD's on the HUD Setup Guide page.
When the first player is done, then double-click again on the panel, so it goes back to normal.
Place all the panels for all the players the same way.
How can I add the popups to my own HUD?